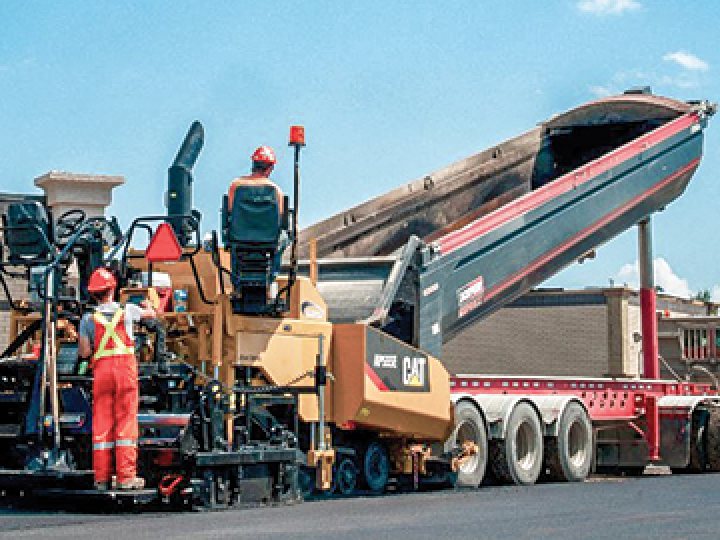 Asphalt
When planning a complex paving project, you want to ensure that you are hiring a company with a proven track record of completing top quality work, using top quality products. Fedorowich Construction Ltd. is known as a leader in the industry in quality control and workmanship. When it comes to Asphalt and the ability to deliver an amazing finished product, Fedorowich Construction Ltd. should be your first choice. Our in-house lab allows us to develop a variety of mix designs – whether you are looking for a design that meets Saskatchewan Highways & Infrastructure specifications, or one of our in-house designs, we have the mix to meet your project needs. We strive to exceed the expectations of our product's strength, finish, and lifespan using stringent monitoring and testing schedules, in order to ensure specifications are met. Fedorowich Construction Ltd. also provides and variety of other Asphalt services, including sale and supply of Hot-mix and Cold-mix Asphalt, cold Asphalt milling, and processing reclaimed Asphalt. The by-product of Asphalt milling is reclaimed Asphalt, which is an amazing substitute for gravel in instances where dust control is needed, or to reduce erosion to extend the life and shape of a gravel surface. For more information on our Asphalt services, or to request a quote, please contact us.
Asphalt Crack Seal
Asphalt Cracking comes in all shapes and sizes, and no pavement is immune to cracking. If left untreated, those cracks are only the start of more significant problems, from potholes all the way to sub-base failure.
Asphalt Seal Coat
Seal coating asphalt driveways, parking lots, and other paved areas is the process of applying a liquid product over an existing asphalt pavement in a manner that seals the surface and fills small voids and cracks as protection against the elements. Left unsealed, sunlight, wind, and water will gradually cause asphalt to harden and oxidize, and as it becomes more brittle, cracking can occur. Over the space of a few years, asphalt paving can be seriously damaged if it is not periodically sealed.

Asphalt repairs come in many different forms depending on budget and severity. One of the most appealing reasons to choose hot-mix asphalt over concrete is its ability to be repaired. Whether the repair is caused by aged asphalt, base failure or due to a repair of an underground utility (water, power, gas or communication). There are a variety of options that can be used to repair Hot-mix Asphalt.